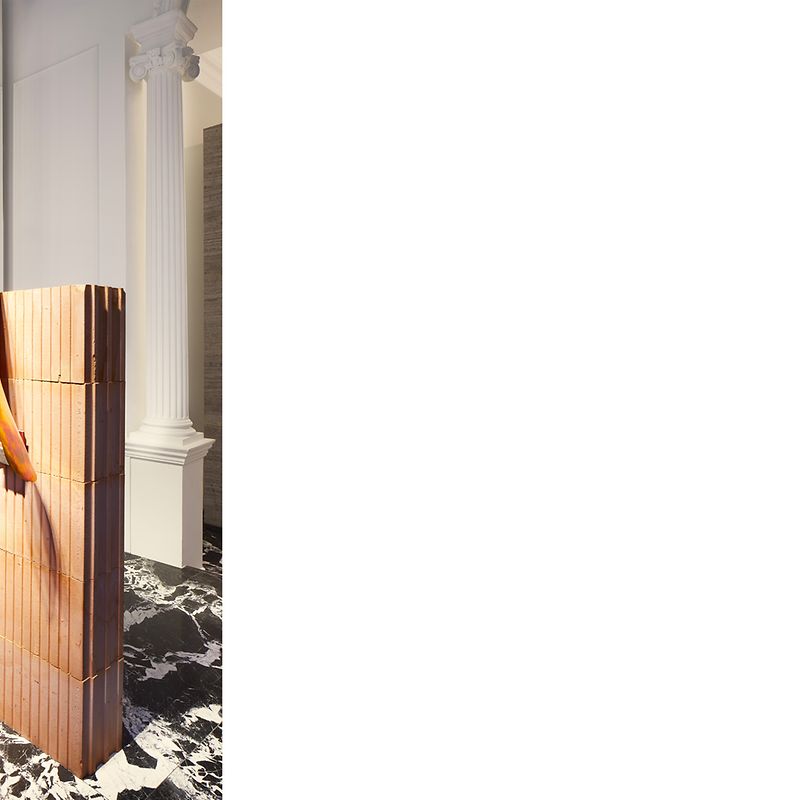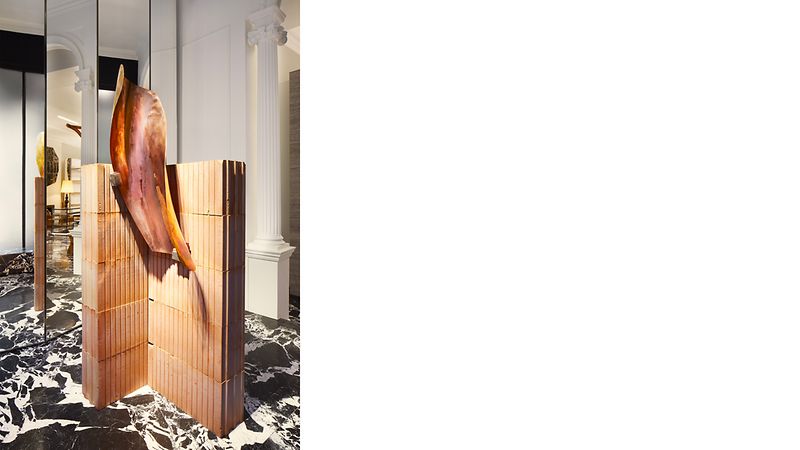 MARIE LUND
NEW BOND STREET LONDON
MONTENAPOLEONE MILAN

MARIE LUND (B. 1976, DENMARK) IS A GRADUATE OF THE ROYAL COLLEGE OF ART IN LONDON, WHERE SHE IS CURRENTLY BASED.
MARIE LUND'S PRACTICE POETICALLY EXPOSES IMPRINTS AND REACTIONARY FORCES AS SHE EXPLORES THE PLACE AND MOMENT OF INTERSECTION WHERE DIFFERENT OBJECTS MEET THE EXTERNAL WORLD. WORKING BETWEEN SCULPTURE AND INSTALLATION, LUND USES A VARIETY OF MATERIALS SUCH AS TEXTILES, FOUND OBJECTS, CEMENT, WOOD, COPPER AND OTHER NATURAL MATERIALS.
LUND THOUGHTFULLY MANIPULATES THESE ELEMENTS, AS THE PHYSICAL TRACES OF HER PROCESS ARE LEFT VISIBLE FOR US TO FIND IN THE FORMS SHE CREATES. LEADING US DOWN A PATH OF NEW EXPERIENCES AND NEW PERCEPTIONS, SHE DRAWS OUT THE SUBLIME FROM THE ORDINARY.
IN SO DOING, MARIE LUND'S WORKS HAVE A DISTINCTLY ATMOSPHERIC QUALITY ABOUT THEM, AS IF THE DICHOTOMIES BETWEEN FORM AND CONTENT, INTERNAL AND EXTERNAL, THE BODY AND THE MATERIAL, WHICH ARE EXPLORED IN HER WORK CAN BE FELT THROUGHOUT THE SPACE. IT IS WITHIN THIS TANGIBLE FEELING THAT LUND INVITES US TO EXPLORE, SHOWING US A WORLD WHICH HAS THE SENSATION OF BEING, AT THE SAME TIME, BOTH FAMILIAR AND UNEXPECTED.
NEW BOND STREET LONDON
"HEROES", 2020
CLAY, COPPER, RUBBER, IRON
MONTENAPOLEONE MILAN
"FACE", 2019
COPPER, RUBBER, IRON