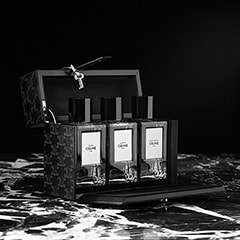 COLLECTION MAISON CELINE

THE CELINE HAUTE PARFUMERIE COLLECTION AND THE "LIFESTYLE" OBJECTS FROM THE MAISON CELINE ARE GATHERED TOGETHER IN THE SAME SHOWCASE, AT 390 RUE SAINT-HONORÉ, THEY FORM TWO PARTS OF THE SAME WHOLE.
CELINE PERFUME AND NECESSITIES ECHO THE NOTION OF RITUAL; THE RITUAL OF GROOMING AS WELL AS THAT OF THE SMOKER OR THE PLAYER.

THEY COMPLEMENT THE FUNDAMENTAL MOMENTS IN LIFE. A RETURN TO DAILY RITUALIZING, TO THE ART OF APPEARANCE. THEY ARE NOMADIC AND TIMELESS. MADE PRECIOUS BY THE HAND THAT CRAFTED THEM, THEY ALSO BECOME PRECIOUS TO THE PERSON TO WHOM THEY BELONG. CELINE NECESSITIES ARE ELABORATED FROM LUXURIOUS MATERIALS SUCH AS NATURAL LEATHER, WOOD, CROCODILE, PYTHON OR LIZARD. THEY ADD TO THE EXQUISITENESS OF EACH PIECE PRODUCED IN A LIMITED QUANTITY.

THEY ARE AN IMPLICIT TRIBUTE TO HAND-CRAFTED KNOW-HOW AND TO THE FRENCH (OR PARISIAN) ATTITUDE TO LIFE.
COLLECTION MAISON CELINE WOMEN