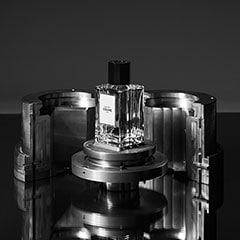 The bottle

The rectangular bottle designed by Hedi Slimane for celine is in keeping with the great tradition of french glassmaking.
The bottle for the celine haute parfumerie collection is decorated on two sides with sharp-edged fluting and topped with a faceted black lacquered cap. An aesthetic inherited from late 17th century classicism, whose distinctive minimalism imbues the bottle with the modernity of art deco: spare, taut lines, a touch of black lacquer and transparent glass whose workmanship and amber-gold reflections highlight the nuances of each perfume.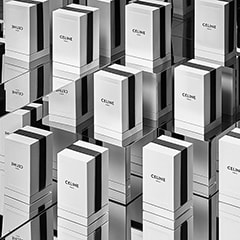 The box is adorned in paper with a "grain de poudre" feel and embossing that recreates the effect of 17th century moldings. They are inspired by the woodwork paneling in the hôtel colbert de torcy where the celine ateliers are housed at 16, rue vivienne in paris.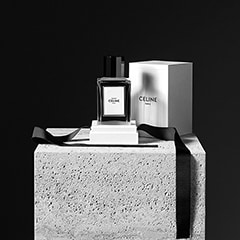 The maison's emblem, the "triomphe" is engraved on the top of the cap. It was chosen by its founder, céline vipiana who, one day in 1971, saw her split initial c designed in the links cinching the "arc de triomphe". It comes to complete this bottle's sense of belonging to the history of the couture house.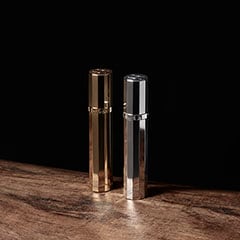 CELINE HAUTE PARFUMERIE VOYAGE
TRAVEL SPRAY
THE HAUTE PARFUMERIE COLLECTION IS BEING ENRICHED WITH A TRAVEL SPRAY.
ITS TIMELESS LINES ARE THE QUINTESSENCE OF A PARISIAN COUTURE ACCESSORY.
ITS FACETED DESIGN ECHOES THE PERFUME BOTTLE AND IS INSPIRED BY FRENCH-STYLE CLASSICISM AT THE END OF THE 17TH CENTURY AND THE DISTINCTIVE MINIMALISM OF ART DECO.
EASILY REFILLABLE, IT ALLOWS YOU TO CHANGE YOUR SCENT AGAIN AND AGAIN AND BECOME FAMILIAR WITH THE MAISON'S PERFUMED CREATIONS. ALL OF THE FRAGRANCES IN THE COLLECTION PARADE, SAINT-GERMAIN-DES-PRÉS, COLOGNE FRANÇAISE, DANS PARIS, LA PEAU NUE, EAU DE CALIFORNIE, REPTILE, BLACK TIE, AND NIGHTCLUBBING ARE AVAILABLE IN A 15ML REFILL BOTTLE.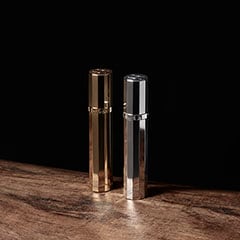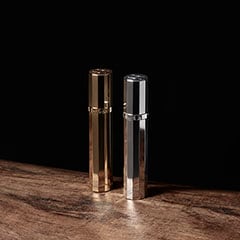 "TRIOMPHE", THE MAISON'S EMBLEM, IS ENGRAVED ON TOP OF THE SPRAY WHICH COMES IN POLISHED GOLD OR SILVER METAL WHILE THE CENTRAL BAND BEARS THE NAME "CELINE HAUTE PARFUMERIE".
ITS COFFRET IS DRESSED IN WHITE PAPER WITH A "GRAIN DE POUDRE" FEEL FEATURING AN EMBOSSED DESIGN OF 17TH CENTURY MOLDINGS. IT IS EQUIPPED WITH A WHITE CANVAS AND BLACK GROSGRAIN PROTECTIVE COVER AND ALONG WITH ITS TWO 15ML REFILLS IS SLIPPED INTO A POUCH INSCRIBED WITH "CELINE HAUTE PARFUMERIE VOYAGE".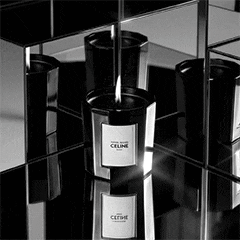 the candle jar

DESIGNED BY HEDI SLIMANE, THE CANDLE HOLDER RECAPTURES THE LINES OF THE PERFUME BOTTLE IN THE CELINE HAUTE PARFUMERIE COLLECTION AND IS IN KEEPING WITH THE TRADITION OF FRENCH GLASSMAKING.
IN FACETED AND BLOCK-TINTED BLACK GLASS, IT IS INSPIRED BY THE DESIGN OF AN 18TH CENTURY FACETED SILVER GOBLET. THE CANDLE'S BOX AND LABEL ARE ADORNED IN PAPER WITH A "GRAIN DE POUDRE" FEEL AND ARE EMBOSSED WITH THE RECREATION OF 17TH CENTURY MOLDING.
THE MAISON'S "TRIOMPHE" EMBLEM IS EMBOSSED ON THE TOP OF THE BOX.