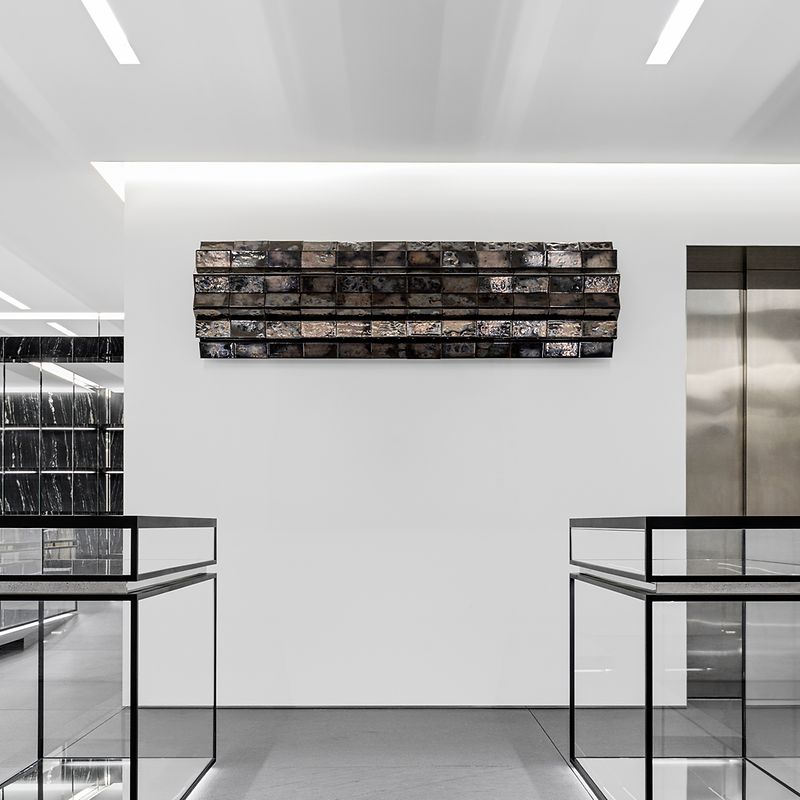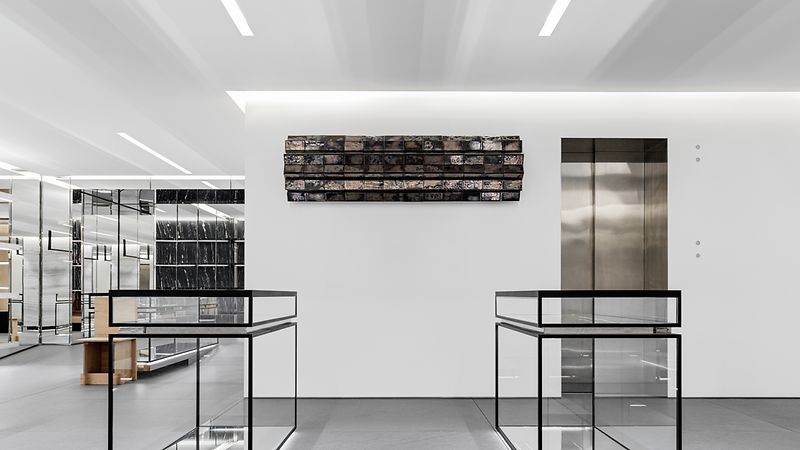 LEUNORA SALIHU
MELBOURNE COLLINS STREET

"CHIP", 2017 MULTIPLEX BOARD, CERAMIC, ENAMEL, MAGNET

LEUNORA SALIHU WAS BORN IN 1977 IN PRISHTINA, KOSOVO, WHERE SHE STUDIED AT THE ACADEMY FOR FINE ARTS. IN 1999 SHE FLED TO GERMANY, WHERE SHE MOVED HER STUDIES TO THE MUTHESIUS KUNSTHOCHSCHULE IN KIEL AND THEN FURTHER TO THE ACADEMY IN DÜSSELDORF, FROM WHICH SHE GRADUATED IN 2009 IN THE CLASS OF TONY CRAGG. SINCE THEN, SHE HAS RECEIVED MANY AWARDS AND HAS BEEN INCLUDED IN EXHIBITIONS AND MOST RECENTLY. HER WORK WAS FEATURED IN SEVERAL EXHIBITIONS AT KEY GALLERIES AND MUSEUMS, INCLUDING THE GALERIE THOMAS SCHULTE AND THE K21, KUNSTSAMMLUNG NORDRHEIN-WESTFALEN. CURRENTLY SHE IS PREPARING A SOLO SHOW FOR THE PHILARA FOUNDATION IN DÜSSELDORF AND THE PUBLICATION OF HER FIRST COMPREHENSIVE BOOK.
THE SCULPTURES "CHIP" TRIES TO GET TO THE BOTTOM OF NATURAL PHENOMENA IN OUR TECHNICAL AND ARCHITECTURAL WORLD OF THINGS. SALIHU PLAYED A GAME WITH MOVEMENT AND ITS COUNTERPART, THE RIGIDITY. THE CONTRADICT MATERIAL INCLUDE CERAMICS TO WOOD TO IRON ARE CLEVERLY STAGED. THE WORK COUNTERACTS THE FLUID-DIVERGENT, ACTS LIKE A WAVE-BREAKING SHIP'S BOW. ALIENATION IS SHOWN INSTEAD OF REALITY.

113 COLLINS STREET
MELBOURNE, VIC 3000

LOCATE THE STORE